4 Steps To Get An Online Title Loan In San Jose CA
Fill out an online application with California Title Loans. This takes just a few minutes and you only need to provide some basic information about yourself and your vehicle. Some companies may also request additional vehicle information that can include mileage, make, and model, and there may be a quick inspection requirement. All of this can be helpful to narrow down an estimated loan amount based on how much the vehicle's resale value is in San Jose.
You can also apply directly in person at any finance lending location in Santa Clara County and most companies will take applications over the phone. Whichever option you choose to apply it shouldn't take longer than 10 minutes and then you move on to the processing and underwriting steps.
Submit the required documents and paperwork. After getting pre-approved, you need to send in proof of income and your vehicle's title. The title loan lending requirements are different throughout the state and it's essential to know the current requirements in 2023. You can't have any loans outstanding and the title must be in your name with no other lienholders or cosigners.
After reviewing your vehicle info, the underwriter will verify your income, title, and registration documents from the DMV. If approved, you'll be presented with a few funding options based on the car's resale value.
Complete the vehicle inspection and sign your loan contract. To finalize your loan, you must pass a vehicle inspection and provide any requested details about the car's pink slip. Title loan companies in San Jose will inspect your vehicle at any local office and this inspection should take 20 minutes or less.
Get your cash. The last step is to get your money! For most people, this means coming into a title loan office in San Jose, CA, to pick up their money and this is often the easiest, most convenient way for fast cash. Sometimes, a lender can hand over money just minutes after you're approved! If you're not local or prefer not to leave home, many companies will deposit the funds directly into your account through ACH or bank wire. Either way, you choose, you should have access to your title loan cash within 24 hours of when you first applied.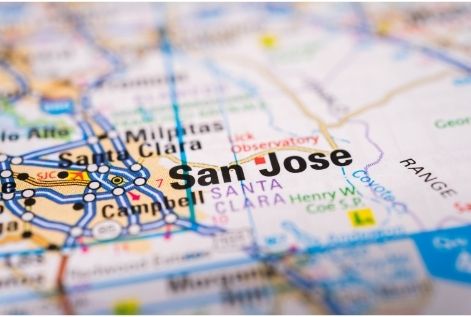 Other Things To Know About Online Car Title Loans In San Jose
Title loan funding amounts are based on your car's collateral and anyone with enough equity should be able to get approved for online title loans in San Jose, CA.
Vehicle equity loans are meant to be short-term solutions to financial emergencies, not long-term financing solutions. That's why most title loans have terms that last three years or less.
Don't hesitate to use our car title loan estimate calculator to see what different payment amounts and terms to expect. Try to pay off the loan early and avoid working with a company that wants to charge a prepayment penalty for early payoffs.
Contact us anytime if you're ready to get started on an application for auto title loans in San Jose. The highly trained team at California Title Loans is here to help break down the loan application and we can answer any other relevant questions you may have.