Motorcycle title loans have long been seen as a great way to borrow money when you need it most. Anyone who owns their motorcycle outright and has a lien free title can apply for this type of financing. The best part is that you don't need to have good credit and most companies can offer 50-60% of the motorcycle's resale value as a loan amount.
There's no need to use a car or other secured asset as collateral for a title loan when you have a motorcycle. We take all forms of motorcycles and you can keep using your motorbike while you pay off the loan amount.
Title loans on a motorcycle are easy to get qualified for and you can borrow up $4,000 for a newer bike. All types of motorcycles can qualify and this includes Harley Davidson, Honda, BMW, Suzuki, it doesn't matter! The same is true with different types of motorbikes including scooters and mopeds. As long as your bike has value there's an opportunity for you to use it as collateral. We'll be able to find you a loan offer that gets you the highest amount of cash for the equity available!
Requirements For A Same Day Motorcycle Title Loan
These requirements will vary by lender, but most title loan companies in California will at least ask for your motorcycle title. Other than that you can expect a few differences in what's needed. Here's what else to expect: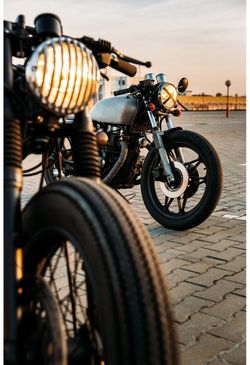 – A valid driver's license or state ID
– The motorcycle must be registered in your name and the registration tags will need to be current
– The motorcycle must have a clean and clear title with no liens and you may also need to provide proof of insurance that covers the full replacement cost
– Even though the loan amounts on motorcycles are low, you will likely still need to show some form of proof of employment. That way you can justify the ability to pay back the amount you borrow.
How To Apply For A Motorcycle Title Loan Online
To get started, simply enter your motorcycle information in the online application form. We'll need to know things such as the make, model and year of your bike. You'll also need to provide your contact information including phone number and email address.
Once you submit the form, one of our motorcycle title loan specialists will contact you to discuss your loan options. We work with a variety of lenders so we can always find you the best possible deal and ensure the highest loan amount. Most approvals take less than one business day and that can even be quicker if you live in California. Anyone who applies for a motorcycle title loan in California can get fast cash by meeting with a local lender to complete the bike inspection. After that you will fill out the contract and get the cash that same day!
What Else To Know About Title Loans On A Motorcycle
There are a few things that you should keep in mind when you're thinking about getting a motorcycle title loan.
– Make sure you can afford the monthly payments. Just like with any other type of loan, you need to be able to comfortably repay the amount you borrow. Of course these motorcycle title loan amounts will be around $2,000 and that's about half of what the average car title loan provides. But you still need to show proof of income to your lender.
– The interest rates on motorcycle title loans tend to be higher than those on car title loans and other personal loans. This is because motorcycles are seen as a higher risk by lenders and the majority of finance companies won't do a traditional credit check. As long as you have equity and aren't in bankruptcy you should be able to get approved.
– Be sure to keep current on your payments so that you don't end up going into default and lose your motorcycle. This is only relevant if you are looking to refinance your current motorbike title loan. You won't be approved if you're still making payments to a lender as that would mean you don't have the title.
The benefits of using a motorcycle as collateral for a title loan
– No prepayment penalties so you can pay off the loan at any time without additional fees
– Quick and easy application process with most approvals taking less than one business day
– Get the cash you need fast by meeting with a local lender to complete the bike inspection
– No credit check required so even those with bad credit can get approved!
Hopefully you can now agree that motorcycle title loans are a great way to get the cash you need quickly and easily. As long as you have equity in your motorcycle, you should be able to get approved for a loan. There is no credit check required so even those with bad credit can get approved. And, if you're worried about making the monthly payments, don't be! You can pay off the loan at any time without any prepayment penalties. So, if you need fast cash you can use California Title Loans to get started with a quick online application!