The knowledgeable team at California Title Loans is here to help you get the best terms and financing rates for pink slip loans in California. These loans work by using your car's pink slip as collateral to secure funding. Loan amounts and underwriting requirements for title loans can vary, but pink slip loans can be a great option if you need quick cash. Here's what you need to know about getting a pink slip loan in California.
Qualify For A Same Day Pink Slip Loan
To qualify for a pink slip loan, you must have a paid off title for your vehicle. The loan amount depends on the value of your car, and pink slip loans range from $1,000 to $5,000.
For those who get started online, you may be able to pick up cash that same day. It can be even quicker if you apply with a direct lender in California and meet with them face to face, as most can give you the cash in person right when you're approved and sign the loan docs. Whichever way you apply, it should take the same amount of time to underwrite and process your application, and you still need to complete a quick vehicle inspection before the loan is finalized and approved.
Pink Slip Loans For Bad Credit
One of the main reasons why people get denied bank and credit union loans is because of their credit score. But did you know you can be approved for a bad credit pink slip loan with little to no emphasis on your credit history? This is because the loan is secured by your car's pink slip and nothing else.
Compare the security used for a car title loan versus the lack of collateral for personal loans and you'll see why title loan companies have little concern for your credit report. Therefore, if you default on the loan, the lender will simply repossess your vehicle and sell it to recoup their losses. This makes pink slip loans one of California's best financing options for people with bad credit. But of course, you still need to worry about rebuilding your credit and what may happen if you fall behind or default on the loan payments.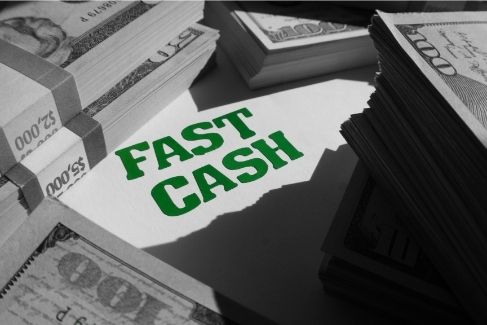 Advantages Of Loans For A Pink Slip
We've already touched on the main advantage of pink slip loans in California: you don't need good credit to get approved. Other helpful aspects include the following:
- Quick and easy application process. Fill out an online application in less than 15 minutes or apply in person for a loan on your pink slip and see how fast you can get approved.
- Get funding as soon as the same day you apply. You no longer need to wait days or weeks for your loan to be underwritten. A pink slip loan in California can be processed and approved within hours!
- Loan amounts are based on your car's value. This means you can borrow up to 70% of the declared value of your car in California!
- No prepayment penalties. Take the initiative and pay off your pink slip title loan quickly and before it comes due to avoid additional interest charges.
- Competitive interest rates. There's no doubt that car pink slip loans have high interest rates. But compare the APR to a payday loan or even a credit card cash advance to see how competitive the terms and rates are.
Risks Or Downfalls Of A Loan For A Pink Slip
Pink slip car title loans in California aren't perfect, and there are some potential risks. These include:
- Your car could be repossessed if you default on the loan. With a pink slip loan, this is the biggest risk as your vehicle secures the financing.
- You can pay more in interest and fees than what you initially borrowed. If you don't pay off the loan fast, you will pay a lot in interest charges and it will take a while to get your car's title back.
Fast Cash With Pink Slip Loans In CA
Pink slip loans can be a great financing option for those who need money fast and have bad credit. Apply online with California Title Loans, or you can call us at 855-339-1001. If you have any questions about pink slip loans, the team at California Title Loans is happy to help. Visit us online or call us today!