San Francisco has always been a great place to live. The weather is nice, and you can experience many different cultures and experiences. But we also know it's an expensive city, and there are times when you may need some extra cash. That's where auto title loans online come in.
Auto title loans are a great way to get the money you need when you need it. And if you live in San Francisco, plenty of options are available to get cash quickly. You can apply with a national lender online or walk into one of the handful of local lending stores throughout the city. But before you consider auto title loans, you should know a few things.
How Car Title Loans Work In San Francisco
First, auto title loans are secured loans backed by collateral from your vehicle. It's quick and easy to get approved because you're putting up the equity from your car as security, and you pay off the loan balance over a few months to 3 years. The lender can take your car if you can't make the payments. So you need to fit the payments into your budget before committing to the lending terms. The collateral you as security is often used to determine the loan amount. You can borrow 40% to 75% of the vehicle's current value for most title loans in San Francisco.
Second, auto title loans typically have higher interest rates than other types. Remember, lenders in California are limited by recent legislation and most companies cap rates at 36%. But there are still some scenarios where you can see much higher rates. Because of that, it's important to compare rates from different title loan companies before you sign on the dotted line. Ensure you understand all the fees associated with the loan because once you sign the contract, you will owe the amount lent out!
Third, auto title loans in San Francisco are meant to be short term solutions to resolve financial issues. They're not meant to be used for long term expenses like a mortgage or college tuition, and they're not intended to pay for things that aren't necessary. In general, it's best to only borrow what you need and can afford to pay back as soon as it's possible By making quick payments on pink slip loans, you can avoid the excessive interest charges that people associate with vehicle title loans in San Francisco.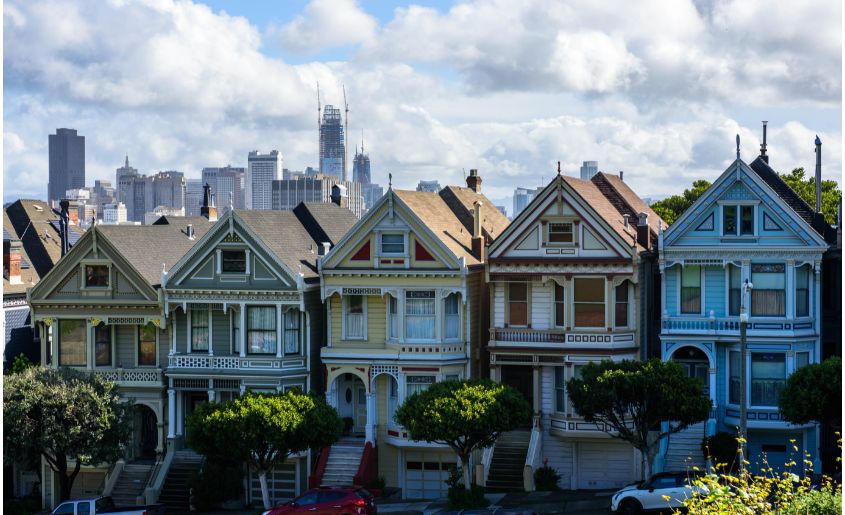 Title Loans In San Francisco With Bad Credit
One of the best things about San Francisco title loans is that you can get approved even with bad credit. That's because online title loans are secured by your vehicle equity, so the lender isn't as worried about your ability to repay the loan or what happens if you default or miss some payments. As long as you have a clear title and your car is worth enough to cover the loan amount, you should be able to get approved.
Expect a finance company in California to at least run a quick credit check to confirm your identity and other information. But there won't be much of an issue if you have missed credit card or loan payments in the recent past or if you default on your credit report. A licensed lender in San Francisco primarily focuses on a past bankruptcy or if you currently have a title loan with another lender and are looking to refinance.
Apply Directly Online Or With A Local Title Loan Company In San Francisco
The process for getting title loans in San Francisco is pretty simple. First, fill out an online application or visit a local lending store. Once approved, you'll need to sign a contract to use a vehicle as collateral for a loan. After that, you'll get the cash you need and make payments over some time until the loan is paid off.
It doesn't matter how or where you choose to apply, as any company offering instant loan funding in San Francisco, CA, will let you borrow the money you need regardless of your credit score. Nearly all of them will give you the chance to start the underwriting online and finish up the loan docs and inspection requirements in store.
Is An Inspection Required For San Francisco Title Loans
The standard title loan process in San Francisco usually requires an inspection to confirm the value of your vehicle, but if you're short on time, some companies may waive this step. For example, if you're in a hurry to get cash or have an emergency, a title loan company may give you the option to skip the inspection and instead rely on multiple pictures or a video to at least prove you have the car and it's in decent condition. However, this could result in a lower loan because the lender won't have as much information about your car.
If you choose to have an inspection, a title lending representative will come to your home or office to check out your vehicle, or you can meet with a direct lender at their office in locations like China Town or the Mission District. They'll look at the make, model, year, mileage, and overall car condition. Based on that information, they'll determine how much money you can borrow and whether your vehicle can satisfy the collateral requirements. Remember that the inspection will often take 5-10 minutes, which may be a bit longer if you apply for title loans for older cars.
Contact Us Today To Get Fast Funds With Online Title Loans In San Francisco
Online title loans in San Francisco may be a good option if you need emergency cash and don't want to go through the hassle and time of working with a traditional finance company. Here at California Title Loans, we can get you access to cash in a few hours. Most can qualify with the car's title and other basic documents like driver's license, vehicle registration, and proof of employment.
Call us today or fill out our online application to get started. We'll work with you to get the best title loan in San Francisco that meets your needs and budget.