Do you live in Orange County, CA, and face a financial emergency where you need cash in less than 24 hours? Did you know that title loans are now available for anyone in OC with a paid off vehicle? Some cars can qualify for up to $15,000 in same-day funding; the best part is that you don't need to give up the vehicle for collateral! Instead, the lender takes your car's title as security, and you get that back after all the payments have been made.
How Do Online Car Title Loans Work In Orange County
If you're thinking about taking out a title loan in Orange County, California, there are some requirements that you should be aware of. Generally speaking, borrowers must own a car or other vehicle (such as a boat) free and clear with their name on the title. Additionally, they must have proof of residence and income. Other qualifications may include being at least 18 years old, having valid identification, and having an active bank account. Depending on the lender, there may also be additional qualifying criteria. It's important to note that title loans are not available in every state, so make sure that you check your local laws and regulations before applying for one.
Any adult can apply for a car title loan in person in Orange County, CA, or online. Depending on the lender, you may be able to complete the entire process online without ever visiting a physical location. However, some lenders require an in-person visit before approval to verify the vehicle and other documents. It's best to contact your chosen lender directly to determine their requirements for applying for a title loan. Even though the laws recently changed limited your funding options in CA, there are still hundreds of locations in the OC where you can apply online and get your cash in person. This includes Huntington Beach, Santa Ana, and Fountain Valley lending offices! California Title Loans works with companies that can offer fast cash in less than 24 hours if you're pre-approved.
What Type Of Credit Is Needed For A Title Loan In Orange County
Credit scores typically do not factor into eligibility for title loans. Generally, the only requirement is that you own the vehicle outright and have proof of residence and income. That said, some lenders in Santa Ana and Irvine may consider a borrower's credit score when considering their loan request. Borrowers with higher credit scores are usually more likely to be approved, but this isn't always the case. It's best to contact your lender directly to find out what type of credit score you need for a title loan.
Ultimately, it doesn't take much time to see if you can qualify for an equity loan in Orange County, CA, and most lenders know the problems people face with their credit histories. Regardless of your credit score, you can still get a great rate and apply with California Title Loans.
How Much Time To Pay Back The Loan In Orange County
Typically, title loans in Orange County are paid back for months, and some companies can stretch this period out over the years. This will be specified by the lender when your loan is originated. Some online lenders in Anaheim or other parts of SoCal may allow additional time to pay back the loan without charging additional fees or interest, but this isn't always the case. It's best to contact your lender directly to find out what rates they charge and how much time you have to repay the loan before it's due in full.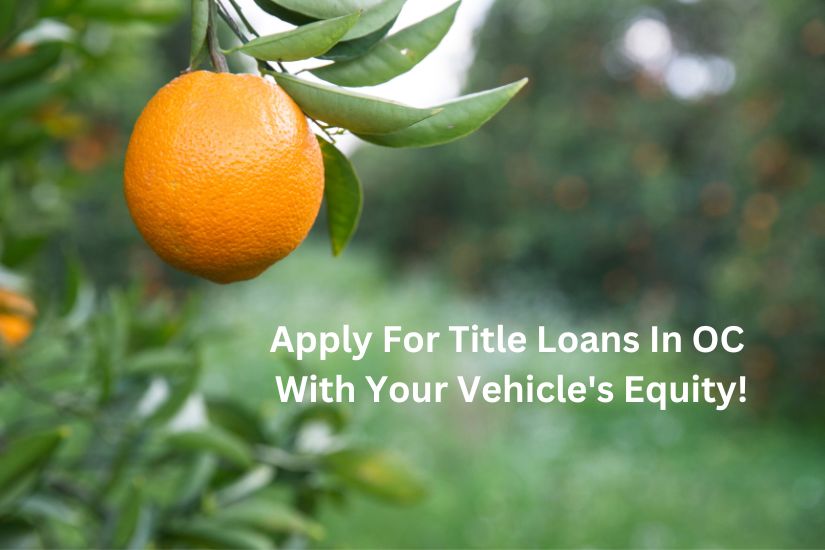 Benefits Of Online Title Loans In Orange County Vs. Other Types Of Credit
Online title loans are a type of secured loan that can provide quick access to funds. Unlike other unsecured forms of financing, title loans require the borrower to put up some form of collateral, usually a car or other vehicle. The benefit of taking out a title loan is that it typically requires less paperwork and has fewer upfront fees than traditional unsecured loans. Additionally, the amount to be borrowed is usually based on the vehicle's value as collateral. This means that borrowers with bad credit ratings may still qualify for a certain level of funding.
Title loans also offer fast access to cash without waiting weeks or months for an application to be processed. This makes them ideal for emergencies when immediate financial help is needed. Are you still thinking of working with an unsecured lender in Orange County? If so, it all comes down to how much cash you need and your credit history. If you know you can pay back a loan in full, an unsecured lender might be a better choice as they are less expensive. However, securing a title loan is often the best option if you cannot pay the money back right away and could face major issues with your credit history.
What Documents Do I Need To Get A Title Loan In Orange County?
Traditional secured and unsecured loans typically require that applicants have proof of employment or income along with their identification documents, such as a social security card, state ID, or driver's license. This can make it difficult for borrowers without income to apply for funding. That's why many online companies like California Title Loans work with auto equity loan companies in Fountain Valley and Garden Grove that require less documentation when applying online. You may be asked to provide your vehicle registration, proof of income, and a copy of your driver's license to qualify; otherwise, this is not always the case. To get started on securing a title loan today, contact us directly or apply online now.
Can I Get A Collateral Loan With No Job In Orange County, CA?
Yes. This can sometimes be one of the biggest benefits of getting a title loan online instead of through traditional lenders such as banks and credit unions. Unlike some unsecured loans, title loans don't require that borrowers have any source of income to receive funding from a direct lender in Costa Mesa, CA. Many people take out a loan to pay for surprise expenses such as medical bills or unexpected home repairs that they haven't planned for. This is often the case with title loans, allowing borrowers to access cash quickly without meeting eligibility requirements first. You may also be asked to provide a copy of your driver's license when applying for funding, but this is not always necessary.
How Long Does It Take To Apply For Online Title Loans In Orange County
The team at California Title Loans makes it painless to get the money you need. Most applications for auto title loans in Anaheim and Santa Ana usually take 10-20 minutes to complete. It can be even faster if you have all of your documentation ready to go. When applying for a title loan online, borrowers are often asked to provide their proof of income (such as pay stubs), social security card, state ID or driver's license, and vehicle registration information like make and model number mileage. If you have copies of these documents on hand, it will make the application process much easier.
How Do I Repay My Title Loan In Orange County, CA?
The repayment terms for online title loans vary depending on the lender. Still, most companies offer flexible payoff schedules that allow those in the OC to settle their balance by the lending due date or pay off the full amount early with no prepayment penalties. Contact us today to learn more about how you can pay off your loan or how much cash you can get for your vehicle's equity, motorcycle, or semi-tuck.